Pope Benedict arrived in Malta on Saturday April the 17th, for a short visit. At a press conference, he explained that he was making the trip to mark the 1,950th anniversary of St Paul's arrival on the island; to celebrate the richness of vocations there, and to support the people of Malta who are currently receiving large numbers of refugees arriving from Africa on their way to mainland Europe.
Following a welcome speech by president George Abela, on Saturday the Pope highlighted how Malta "has been at the crossroads of many of the great events and cultural exchanges in European and Mediterranean history, right up to our own times. ... To these shores, then, in the mysterious designs of God, the Gospel was brought by St. Paul and the early followers of Christ. Their missionary work has borne much fruit over the centuries, contributing in innumerable ways to shaping Malta's rich and noble culture".
Below are pictures of this event, mainly of the EMCOM group which again provided back-up communications for the Civil protection Department (CPD). We where located near on the bastions exactly at the car park of the Central Bank. The location provided us with a partial view of the arena where mass was celebrated on Sunday. Furthermore the location proved to be an excellent site for all our communications.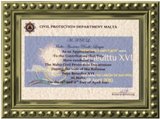 above is the certificate issued by the Civil Protection Department (CPD) to the EMCOM group within the MARL club, as an appreciation for their commitment, effort and participation.